President: Judy Chernos, PhD, FCCMG
Judy Chernos is an Associate Professor in the Department of Medical Genetics, University of Calgary and is a senior Cytogeneticist at the Alberta Children's Hospital. She obtained her BSc in Zoology and Anthropology from the University of Toronto. After moving west, she completed a PhD from the University of Calgary in Medical Genetics (1988) examining the effects of cryopreservation on chromosomal anomalies in gametes, followed by CCMG post-doctoral training in Cytogenetics. She has been a Fellow of the CCMG since 1991. Dr. Chernos is a keen educator at all levels. Her longstanding scientific interest is in elucidating the nature of unique constitutional chromosome anomalies using traditional and genomic technologies and correlating with clinical phenotypes.
---
Secretary: Tanya Nelson, PhD, FCCMG

Dr. Tanya Nelson completed her PhD (Genetics) at the University of British Columbia (UBC) in 1998, under the co-supervision of Drs Stephen Wood and Fred Dill, both long standing members of the CCMG. After completing a post-doctoral fellowship, she joined the British Columbia Children's Hospital (BCCH) Molecular Genetics Laboratory where she completed her CCMG training and certification (2004), and became Associate Director of the laboratory. She is currently the Division Head of Laboratory Genetics at BCCH, as well as Clinical Professor, UBC, Pathology & Laboratory Medicine. Dr Nelson is past member of the CCMG Prenatal Diagnosis/Clinical Practice committee, past member and Chair of the Ethics, Education, and Public Policy committee, and a current member of the ad hoc Incidental Findings committee. She is also the Program Director of the UBC Molecular Genetics post-graduate CCMG fellowship program.
---
Treasurer: Jean McGowan-Jordan, PhD, FCCMG

Jean McGowan-Jordan is the Head of the Regional Cytogenetic s Lab at CHEO and an Assistant Professor in the Department of Pathology and Laboratory Medicine at the University of Ottawa. After completing fellowships in Molecular Genetics and Cytogenetics in Ottawa and Kingston, she was credentialed in both specialties through the Canadian College of Medical Geneticists in 2002. She has been instrumental in the transition of prenatal diagnosis of aneuploidies in Eastern Ontario to a more efficient molecular-based approach and has been heavily involved in the introduction of SNP microarray testing in the CHEO Cytogenetics lab.
Jean is Laboratory Lead for the CHEO Genetics Labs, working in close collaboration with medical and operations leadership. She has served as Chair of the CHEO/University of Ottawa CCMG Fellowship Committee, the Genetics Scientific Committee of the Quality Management Program – Laboratory Services under the Ontario Medical Association, and the CCMG Cytogenetics Committee. Currently, Jean is Chair of the Standing Committee for the International System for Human Cytogenetic Nomenclature (ISCN) and was a co-editor of ISCN 2013.
---
Vice President: TBD
---
Member: Marjan Nezarati, MD, FRCPC, FCCMG
---
Member: Murray Potter, MD, FRCPC, FCCMG


Professor, Department of Pathology and Molecular Medicine, McMaster University
Dr. Potter spends most of his professional time in the area of biochemical genetics and newborn screening. Direct clinical duties include running Metabolic Genetic and Newborn Screening clinics at McMaster Children's Hospital and directing the Biochemical Genetics Laboratory at the Hamilton Regional Laboratory Medicine Program.
The major focus of Dr. Potter's research is on inborn errors of metabolism. This encompasses clinical research in the diagnosis and management of these disorders and the development of new/improved mass-spectrometry diagnostic and monitoring tests. Dr. Potter's educational contributions include undergraduate, medical student and post-graduate teaching at McMaster University. He is also involved in local education administration (Associate Chair Education, Department of Pathology and Molecular Medicine) and national assessment (Royal College of Physicians and Surgeons and Canadian College of Medical Geneticists examinations).
---
Member: Linlea Armstrong, BSc, MD, FRCPC, FCCMG
Provincial Medical Genetics Programme, BC Women's Hospital
Linlea Armstrong is a Clinical Geneticist who cares for individuals and families with genetic and genomic concerns. She is Co-Chair of the Clinical Ethics Committee at BC Women's Hospital. Passionate about education and finding ways to optimize the training of health care providers, she holds several teaching and educational leadership roles within UBC's Faculty of Medicine.
---
Member: Leslie Turner, BSc, MD, FRCPC, FCCMG
Associate Professor, Discipline of Genetics, Faculty of Medicine, Memorial University of Newfoundland

Dr. Turner is a clinical geneticist. She is the Medical Director of the Newborn Screening Program. Her research interests include newborn screening and consent. She is also interested in Inherited Metabolic Diseases and is part of the Canadian Inherited Metabolic Disease Network.

Dr. Turner is the lead for the undergraduate Medical Genetics curriculum and chairs the Medical Genetics graduate course.
---
Member: Tracy Stockley, PhD, FCCMG
Research location: Toronto General Hospital/Research Institute (UHN)
Primary Research Area: Genetics, Genomics & Proteomics
Secondary Research Area: Cancer
Research Statement:
Dr. Stockley's research interests include development of genomic tests for molecular diagnostics, application of new technologies such as Next-Generation Sequencing to clinical care for acquired and inherited disease, and quality management for high-complexity clinical laboratory testing.
---
Past-President: Gail Graham, MSc, MD, FRCPC, FCCMG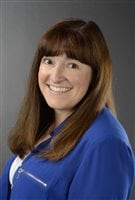 Dr. Graham obtained her MSc in Human and Medical Genetics in 1988 and her MD in 1992, both at Queen's University. She completed her FRCPC in Medical Genetics at McGill University in 1997. She has 15 years' experience as a clinical geneticist, having practiced in traditional hospital clinic settings, via Telehealth and in outreach settings in Alberta and Ontario. She served as the Sudbury Medical Advisor in the Northern Regional Genetics Program for 9 years while based in Ottawa. She became Chief of the Eastern Ontario Regional Genetics Program/CHEO Department of Genetics in 2011.